11th Rwanda Surgical Society Scientific Conference Kigali Hotel Des Milles Collines Day II
The second Day of Rwanda Surgical Society Scientific Conference starts with session IX : Epidemiology Moderated by Robert MUNYANEZA and Ronald TUBASIIME.
Titles of papers in this session :
1. Epidemiologic Profile of Surgically-Treated Biliary Atresia in Rwanda By Alice Nsengiyumva/ Ntaganda Edmond.
2. Intussusception in pediatric population at Kigali university teaching hospital : a retrospective study from 2013 to 2017 Patrick Twagirimana.
3. Epidemiology and short term outcomes of patients with hypertrophic pyloric stenosis at the Centre Hospitalier Universitaire de Kigali (CHUK) By Irere H.
4. Outcome of decompressive craniectomy in traumatic brain injury at university teaching hospital of Kigali : a three years retrospective study By Fabrice MUGISHA
5. Injured patients presenting at Kibungo Referral Hospital : Patterns, management and outcome of care by Jean de Dieu Nduwayezu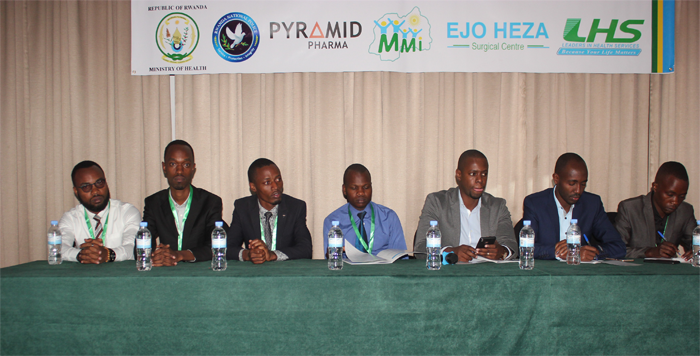 Epidemiology Session Representatives
The Session X is being Moderated by Dr.Christian Ngarambe& Dr.Alphonse Ndakengerwa with the theme"Outcomes"
Titles of papers in this session :
1. Patient reported outcomes after femur shaft fracture surgery at Kigali University Teaching Hospital By Protogene Nshimiyimana.
2. Outcomes of patients with traumatic brain injury in Rwanda By Paulin Munyemana
3. The incidence, risks, management and outcome of urological injuries following Gynecology and Obstetrics surgery at a Tertiary Hospital of Rwanda By Jean de Dieu Hategekimana.
4. Community Versus Hospital Acquired Infections in curate care surgery patients in Rwanda By Dr. Christophe MPIRIMBANYI
4. Cost of care in surgical patients with infections at Tertiary Teaching Hospital, Kigali, Rwanda By Jean Bosco Katabogama.
5. Surgical outcome of spine patients in Rwanda : a long-term systematic outcome evaluation By Steve Nshuti
6. Outcomes of Surgery Patients with infection at Tertiary Hospital in Kigali, Rwanda By Thierry Cyuzuzo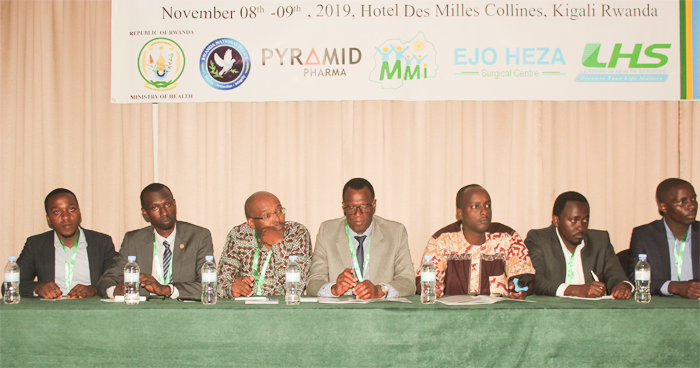 Outcomes Session Representative
At 10:45-10:55 Prof. Emile Rwamasirabo Talking on NSAOP Implementation through HMIS
Professor Emile RWAMASIRABO
We start the session XI talking about Case series/Reports II
Moderated By Furaha and Severin Muneza.
Titles of papers in this session :
1. Cystoscopic extraction of a penetrating foreign body into the Urinary Bladder : A Case Report and Review of literature By Alex Bonane.
2. Management of an extensively burnt female pediatric patient at University Teaching Hospital – Kigali (CHUK) with MEEK technique the first in Rwanda By Yves Nezerwa
3. Cross-Leg as Salvage Procedure for Treating Complicated Wounds with Significant Soft tissue Defects By Ronald Tubasiime.
4. Polydactyly management by a general surgeon in remote erea , life
Changing story : case presentation. Aime Hirwa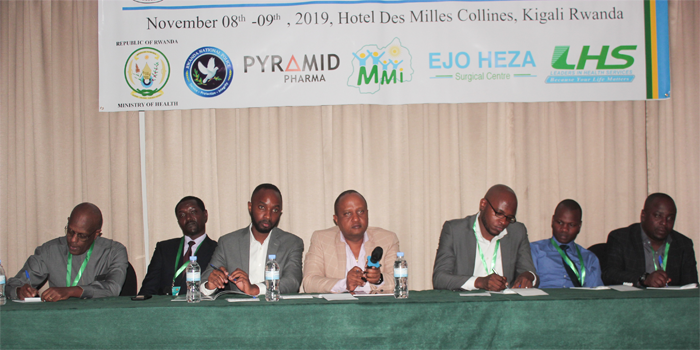 Case series/Reports II Session Representatives
The Topic TRAUMA BURDENS : A PERSPECTIVE FROM DIFFERENT SURGICAL SPECIALITIES AND AVENUES TO FINDING SOLUTIONS Is being Mederated By Dr.NTAKIYIRUTA Georges with panelists :
1. Prof.Jhon BYIMANA
2. Prof.Emile RWAMASIRABO
3.Prof.Martin NYUNDO
4.Prof.Emmy A.Nkusi
5.Dr.Chales FURAHA
6.Dr.ISAIE NCOGOZA
7.Dr.Paulin BANGUTI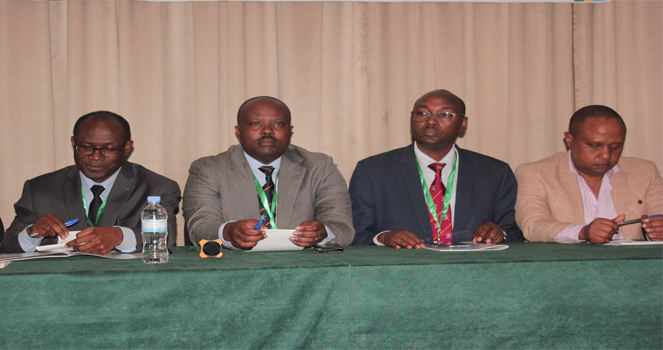 From Right Dr.Chales FURAHA, Prof.Emmy A.Nkusi, Prof.Martin NYUNDO, Dr.NTAKIYIRUTA Georges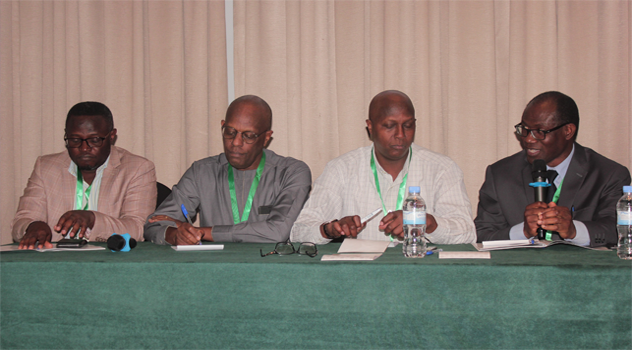 From Right Prof.Jhon BYIMANA, Prof.Emile RWAMASIRABO, Dr.Paulin BANGUTI