Follow 11th Rwanda Surgical Society Scientific Conference Kigali Hotel Des Milles Collines Day I
The 11th Annual Scientific Conference for Rwanda surgical society (RSS) is ongoing. the conference started on 8h00 AM as proposed on the agenda.
Historical Background of RSS
Rwanda Surgical Society (RSS) was formed in January 2007 to champion the welfare of the surgeons in Rwanda with 21 full members and 17 post graduate doctors. The current RSS membership is ninety surgeons across the country and Associate members include Residents, Medical students and Theatre nurses.
With a view to giving back to young doctors, RSS also runs several Annual Conferences and Trainings in surgery. With the support of members, potential partners, COSECSA and the Ministry of health, the society has held AGM and Scientific Conferences in Rwanda since 2008 up to date.
Over 200 participants (surgeons, anesthetists, medical and clinical officers, medical students, nurses) attend these scientific conferences.
At 08:05 a welcoming address by President of RSS Prof Martin NYUNDO
11th Annual scientific conference for RSS Participant.
At 08:15 the next activities is Opening remarks by Commission Of Police Dr.NYAMWASA Danie On Behalf of Inspector General Of Rwanda National Police.
who emphasized on different preventive measures of different types of trauma mainly RTA and collaboration between RNP and RSS for quality care to trauma casualties.
From 08:25 Opening Remarks and official opening of the Scientific Conference By Honorable Minister of Health Dr. GASHUMBA Diane
She Emphasized on the contribution of Government Of Rwanda to health care delivery where the country is seeking to adopt the most efficient and evidence based practices to improve the lives of its people. She ended up thanks to RSS Members for the contribution to improve the quality and access to safe and affordable surgical care.
Session III Ongoing with the theme "OVERVIEW OF TRAUMA IN RWANDA" Moderated By Prof Emmanuel KAYIBANDA.
1.The Overview of trauma in RWANDA by
Edmond NTAGANDA.
2. Mapping and prioritizing barriers to trauma care in Rwanda presented by MARIA LISA ODLAND.
3. Trauma Burden and management challenges in new referral hospital, case of Ruhengeri Hospital by AIME HIRWA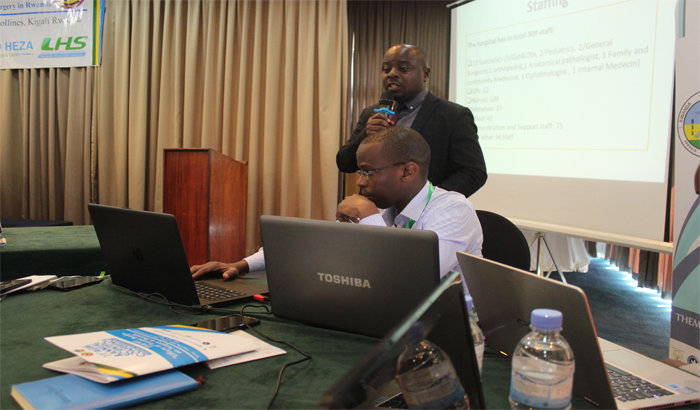 AIME HIRWA
4. Trauma burden and management challenges in provincial hospital : a case of RWAMAGNA PH by Herbert BUTANA

Team In charge of Session III. Trauma In Rwanda
Session IV Is Now Talking about Trauma Care In RWANDA : Accessibility and cost of care. Moderator Dr.BIKOROTI Joel and Panelists are :
Dr.Zuber MUVUNYI, DG Clinical Services/ MOH, Mr Alexis Rulisa(RSSB), Dr King Kayondo(MMI), Prof Martin NYUNDO (CHUK) and DG of SAMU Division (MOH) Dr. Theophile DUSHIME.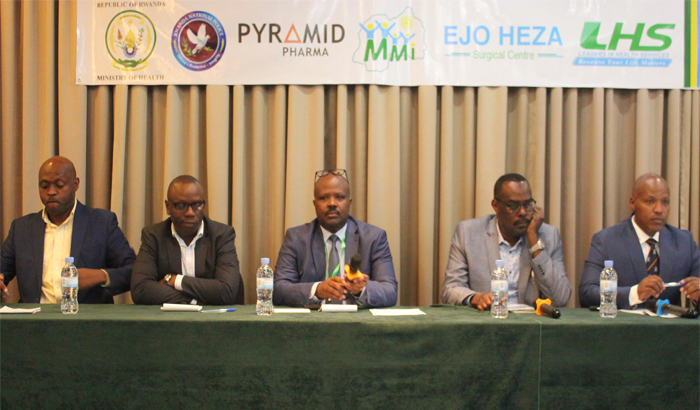 Team In charge of Session IV Trauma Care In RWANDA
SESSION V : epidemiological session chaired by Pfor Butera A.
1. patterns and management of pediatric fractures consulting emergency department of Referral hospitals in Rwanda By Dr Rene MUKEZAMFURA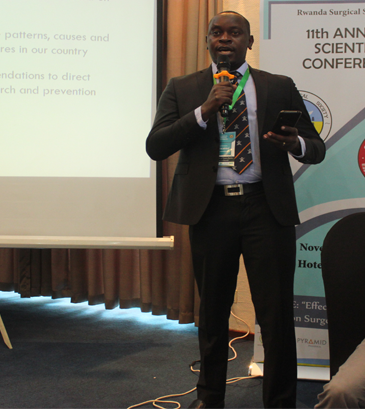 Dr Rene MUKEZAMFURA
2.assessing the waiting time for emergency orthopedic surger for open fractures ; a 6month longitudinal study in an urban setting in Kigali, Rwanda By Dr Menelas NKESHIMANA
3. finding ways to improve neonatal surgical outcomes in rwanda. an early evaluation of gastroschisis and intestinal atresia by deborah Igiraneza
4. post circumcision injuries : cases received ak University Teaching Hospital of Kigali over 2years by Gallina Kazobinka
5. chest trauma burden at KFH-a one year review by Dr. Desire RUBANGUKA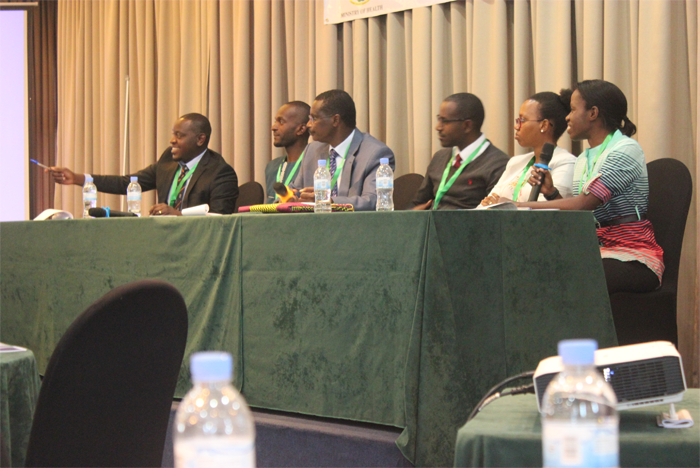 Epidemiological session Panelist
Afternoon Session Start with a presentation from ACELITY on wound care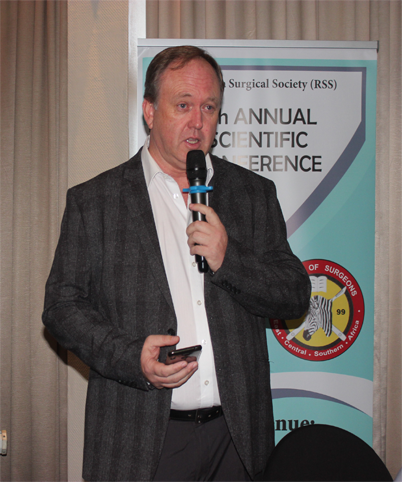 Representative from ACELITY Talking on Solution to infections in wounds
Session VI with the theme Case Series/Reports I Moderated by Costas Ainhoa and John Byimana starts. paper titles and presenters :
1. Biliary pertonits from isolated gallbladder perforation on blunt abdominal trauma moderated by Dr. Olivier KUBWIMANA
2. A report on Penile Fracture at CHUK presented by Dr. Nathalie UMUGWANEZA
3. Report on Tension viscerothorax in a patient in a patient with missed traumatic diaphragmatic hernia. by Dr. Hebert Butana.
4. Profile of patients with traumatic brain in Rwanda by Muneza Severin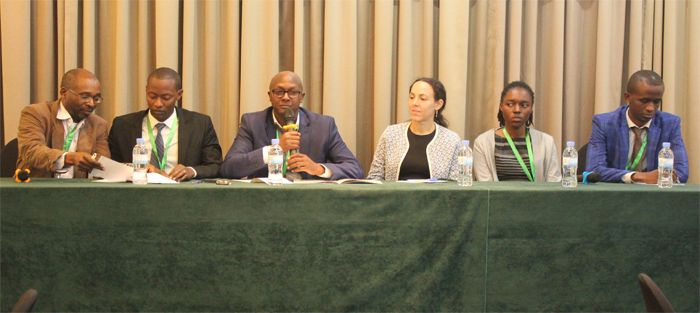 Case Series Team Representative
Session VII : Policy chaired by Dr Robert Rivielo
Topics :
1. The presence of a General Surgeon at a district hospital reduces referrals to tertiary care by Dr S.P Bennet
2. Abdominal surgery at kibungo Referral Hospital, eastern province,Rwanda : indications,managementand outcomes of care by Dr Blandine Twambazimana
3. elaborated plan for incoming surgical emergency management in Sub-saharan Africa by Edouard Ngendahayo
4. Nutritional intake in Rwandan acute care surgery patients by Jennifer Rickard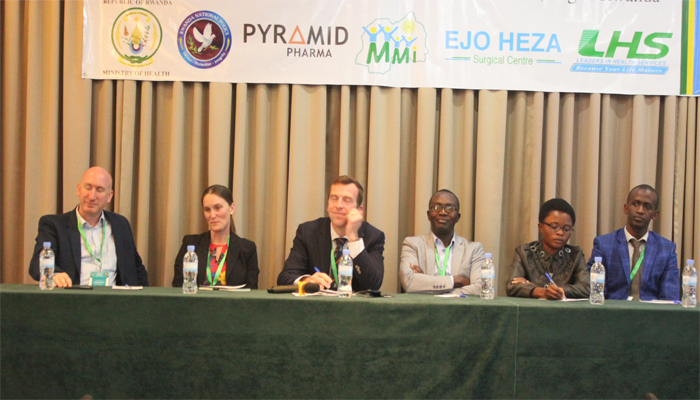 Policy chaired Session Representatives
Session VIII : Education By Edmond Ntaganda and Jennifer Rickard
Topics
1. Understanding barriers to behavior change after implementation of the Non-Technical Skills for Surgery (NOTSS) course. By Dr. Muneza Eugene.
2. Learning NOTSS while tying Knots", Integrating Non-Technical Skills for Surgery (NOTSS) to an essential surgical skills course to a multidisciplinary operating room team in Rwandan district hospitals. By Dr.Isaie Sibomana.
3. A One Year Experience of General Surgery Resident Rotation at Kibogora District Hospital. By Dr.Bernard Mutoniwase
4. Quality of end of surgical postgraduate training dissertations at The College of Medicine and Health Sciences, University of Rwanda : rate of publication in high impact metrics. By Dr. Christophe Mpirimbanyi
5. Esophageal atresia with or without trachea-esophageal fistula : A Rwandan University teaching Hospital experience By Dr.Ines Clarisse Ntambabazi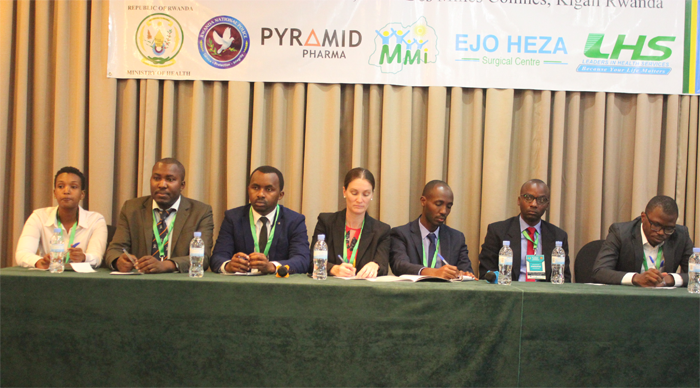 Education Session Team Representatives
Today's Sessions is closed By Prof Martin NYUNDO, President of RSS who also thank all participants for their presence and ideas shared in todays' sessions.
Tomorrow's sessions will start at 8am. participants are encouraged to be on time.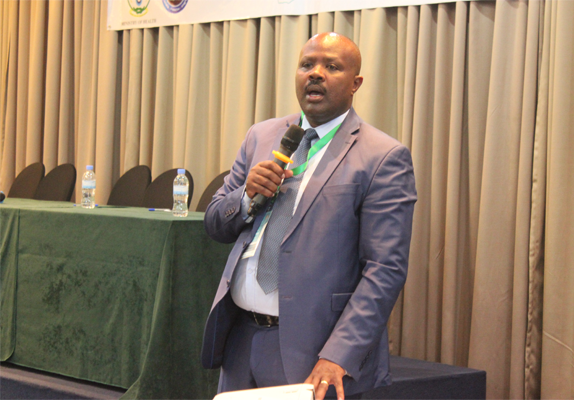 Prof Martin NYUNDO, President of RSS